Careers
NAZ is creating meaningful change in North Minneapolis for scholars, their families, and the community as a whole. When you join NAZ, you'll work with a diverse team that's helping Northside families and scholars to reach their full potential.
NAZ Job Listings:
Healthy Ways Manager
The Health Ways Manager will oversee Healthy Ways programming at a NAZ Anchor Partner site. They will supervise the Nutrition Educator, the Health Educator, and the Fitness Specialist (and/or contractors fulfilling these roles.) They will coordinate all Healthy Ways programming scheduling in collaboration with the Anchor Partner site. They will partner with the Anchor Site to ensure implementation of the Healthy Ways curriculum in a manner that is reflective of that organization's approach and culture, while always ensuring the fidelity of the Healthy Ways program. This role will also serve as a liaison between Healthy Ways staff initiatives, led by the Senior Healthy Ways Manager, and the Anchor Partner Site's staff, making sure they feel included and understand the role-modeling principles baked into the Healthy Ways curriculum.
High School Through College Program Manager
The High School Through College Program Manager will oversee NAZ's High School Through College overall strategy and related programming. They will develop a framework and system of supports for NAZ's approach to NAZ's High School through College Pipeline, preparing NAZ scholars for High School graduation, readiness for college, and successful completion of postsecondary education and entrance into career. The Program Manager will work closely with High School Anchor partners, Expanded Learning (Out of School Time and In-School Time) programs, NAZ families and scholars, community organizations and higher education partners that provide programs, resources and expertise in this area. 
Health Educator (Part-Time)
The part-time Health Educator will facilitate family health workshops for caregivers and individual goal-setting sessions with youth which will include physical activities and cooking demonstrations. This role is part of site-based teams dedicated to implementing Healthy Ways programming. This position will be located at 21st Century Academy, 3700 N Bryant Ave, Minneapolis, MN 55412. The Health Educator reports to the Healthy Ways Manager. This part-time role will work between 20 to 25 hours per week, and must be available Monday - Thursday and flexible Saturday between the hours of 1pm - 7PM.   
Anchor Partner Job Listings:
The Family Partnership
Family Worker
Lead Teacher
Teacher's Aide
New Horizon
Early Childhood Teacher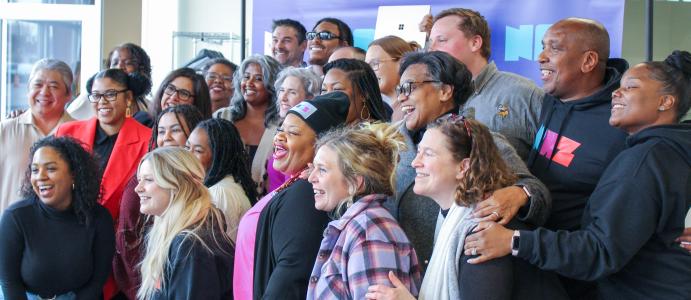 When you join NAZ, you'll work with a diverse team that's helping Northside families and scholars to reach their full potential.
Why Work for NAZ? 
Local impact, national reputation
NAZ is a nationally recognized Promise Neighborhood organization that's come a long way since it started, and continues to grow. Our work in North Minneapolis has a far-reaching ripple effect.
Your voice matters
At some organizations, you work in a silo. At NAZ, you'll have the opportunity to collaborate with a team, share your ideas across departments, and make a genuine impact.
Family friendly
NAZ supports families—this includes the families of our employees. We offer above-average pay and benefits geared toward supporting employees with kids.
Our organization is values-driven. 
Our NAZ F.A.C.T.S. are core to who we are as an organization and the basis of all of the decisions we make related to our people, programing, partnerships, policy platforms. Our F.A.C.T.S. are as follows:
    Focusing on the Success of our Families and Children
    Advancing Racial Equity for All
    Creating a Trusting Community
    Transforming our Community Through Data and Learning
    Supporting our Staff to be Their Best Selves