Long-time North Minneapolis resident Tatika Taylor joined the Northside Achievement Zone as a Family Achievement Coach in the fall of 2018 and immediately established herself as a cherished colleague and partner to families. "I've always been the go-to person for people who need help. This role is just me — this is who I am."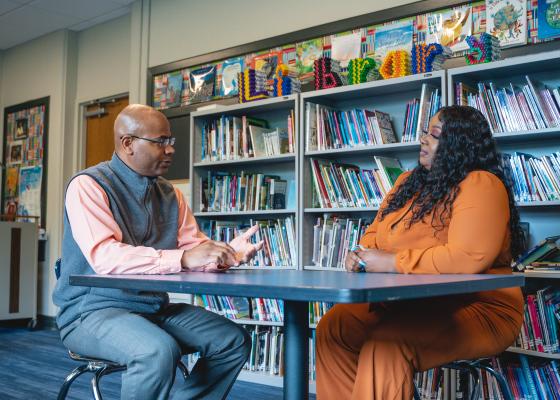 Family Achievement Coaches work to enroll families into NAZ programs and partner with scholars and their parents to support their path to college beginning at birth. As a coach embedded at Ascension Catholic School, a NAZ Anchor School, Tatika is an ever-present support and resource for her scholars and their families.
She describes how she visits the classrooms of each of her scholars daily, giving them a pep talk and a big hug. "I make sure they have an amazing day; I sit in their classrooms and set short- and long-term goals with them and their parents. I regularly meet with teachers and administrators as an advocate for my scholars and a voice for their parents."
Because she has such strong relationships with her roster of families, Tatika is uniquely positioned to connect them to resources and opportunities. Parents who partner with Tatika have found meaningful employment, moved from living in their cars to safe and stable housing, and even received grants to start their own businesses. Sometimes those relationships lead to late nights at work.
"All families are different. An emergency situation may arise — where I need to ensure a family's safety. If it's after 5 p.m., I have to keep going. I can't stop until everyone is safe." NAZ scholars and families are deeply fortunate to have Tatika as a partner and resource. 
"I wish people knew the love that we pour into our roles. NAZ coaches do it all. Anything you can think of, we do it."
Tatika Taylor