Keela and Brandon Hollman are raising five bright young scholars in the same home in which Brandon grew up. They are Northsiders through and through, and they're stand-out neighbors in their community. Scholars Brooklyn (14), Kayla (8), Kinsley (6), Brandon Jr. (2), and Bella (10 months) keep them fully occupied.
After their youngest daughter Bella was born, Keela and Brandon could not find high-quality early childhood care that was a fit for them financially that had space for her. Without a childcare option, they made the decision for Keela to stay home – but, financially, it just was not sustainable.
NAZ Coach Jahanna partnered with the Hollmans to find two early childhood scholarships through NAZ anchor partner Think Small that allow Brandon Jr. and Bella to be in high-quality education-focused childcare at Northside Child Development Center (NCDC). The scholarships have freed Keela to pursue her career and contribute significantly to her family's income.
NCDC is just blocks away from where older sisters Kayla and Kinsley attend school at Ascension Catholic School, also a NAZ anchor partner. The convenience and cohesiveness of being with both programs has enriched their family life and supported their educational goals for their scholars.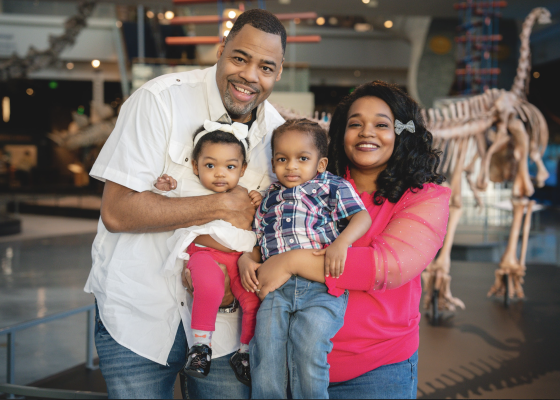 NCDC is a Northside staple with significant community connections and top-notch teaching. When Brandon Jr. had a medical emergency at the center, their observant staff caught the incident and got him immediate medical attention. The Hollmans feel safe and valued at NCDC, and they also feel confident their scholars will be ready for kindergarten and life as a whole.
Keela says, "Brandon Jr. comes home every day singing songs and reciting things he learned. They just had a Black History Month program, and every kid in the center participated in some way." 
Brandon added, "I love that NCDC has children grouped by age instead of co-mingled. Brandon Jr. is learning social skills he didn't get at home, and their staff-to-child ratio is really good. Our kids are receiving really good care and attention."
"I love that NCDC has children grouped by age instead of co-mingled. Brandon Jr. is learning social skills he didn't get at home, and their staff-to-child ratio is really good. Our kids are receiving really good care and attention."
Brandon's involvement in the NAZ Family Academy Proud Papa's class has filled his cup in both family and community life. "I was born and raised here in North Minneapolis. I take pride in giving back to the community in which I was raised. Knowing my kids will grow up in the Twin Cities, I am happy to be a part of the direct impact that this city needs to get the young generation back on track."