Goals
Organizational goals for our 3-year Strategic Business Plan
Goal 1
Going wider by extending NAZ's geographic footprint to provide increased support to families and scholars through current and new partnerships, including an increased focus on high school through college programming, physical health, and an expansion of NAZ-centric programs and classes.
Goal 2 
Going deeper by expanding the comprehensive supports proven effective, including increased high-quality educational opportunities, early childhood scholarships and home visiting, family stability support, as well as community wellness and trauma-informed care.
Goal 3
Expanding NAZ's citywide and statewide influence through increased policy and systems change efforts with a focus on eradicating racial opportunity gaps and ending multigenerational poverty.
Equity is the goal of NAZ and the lived experience of systemic racism is the lens through which our staff approaches their work. As an organization, we are committed to understanding and ending the impact of racialized trauma, ensuring equitable policies and practices, and working towards wellness and health in our minds and bodies alongside our schools, partners, and community. 
Read the Strategic Business Plan here.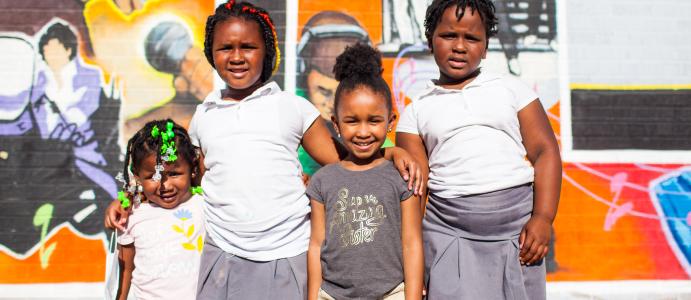 Measuring Success
We gauge our success in achieving these goals through measurable data. NAZ utilizes a data system called The Link, that is shared by all anchor partners as a mechanism for sharing information about families within the collaborative, track progress toward goals, and facilitate service coordination and referrals while measuring the progress and impact of our collective efforts.
NAZ supports the collective coordination across all anchor partners, facilitating data sharing through a common database, service coordination through regular meetings, support for a shared policy agenda, as well as collective training on topics like trauma-informed care to develop a consistent approach across the network for addressing the impact of racial trauma on Northside families. 
NAZ also works with Wilder Research and the University of Minnesota to analyze the data and assess what's working to track our efforts to close the opportunity gap in North Minneapolis. 
Seeking to more quickly move the needle against the stark racial disparities facing North Minneapolis, NAZ will continue to support scholars and families by expanding what we know works while bringing in new partners and additional resources to accelerate outcomes.